Kuala Lumpur, Malaysia - V-cell Energy Technology Co., Ltd., a leading innovator in solar industry, is excited to extend a warm invitation to our valued customers and partners to join us at the International Greentech & Eco Products Exhibition & Conference Malaysia (IGEM) 2023. We will be showcasing our latest innovations and sustainable solutions at Booth #1135 from October 4th to October 6th, 2023, at the Kuala Lumpur Convention Centre.
IGEM 2023 is one of Southeast Asia's premier events dedicated to promoting green technology, sustainability, and eco-friendly products. It provides a platform for industry leaders, experts, and enthusiasts to come together, exchange ideas, and explore the latest advancements in the field.
When you visit us at Booth #1135, you will have the opportunity to:
1. Explore Solar Innovation: Discover our state-of-the-art solar products and solutions designed to harness the power of the sun for a sustainable future.
2. Engage with Solar Experts: Meet our team of solar energy experts who will provide insights into how solar technology can benefit your projects and reduce your carbon footprint.
3. Experience Solar Excellence: See firsthand how our solar panels, inverters, batteries, pumps, lights, and other products can make a positive impact on your energy efficiency and environmental sustainability.
4. Discuss Your Solar Needs: Whether you're considering a residential solar installation, commercial solar project, or industrial-scale solar solutions, we're here to discuss your unique requirements.
Event Details:
Date: October 4th - October 6th, 2023
Booth: #1135
Venue: Kuala Lumpur Convention Centre, Malaysia
Join us at IGEM 2023, where you can explore the future of clean and sustainable energy solutions. Let's work together to harness the power of the sun and create a greener, brighter tomorrow.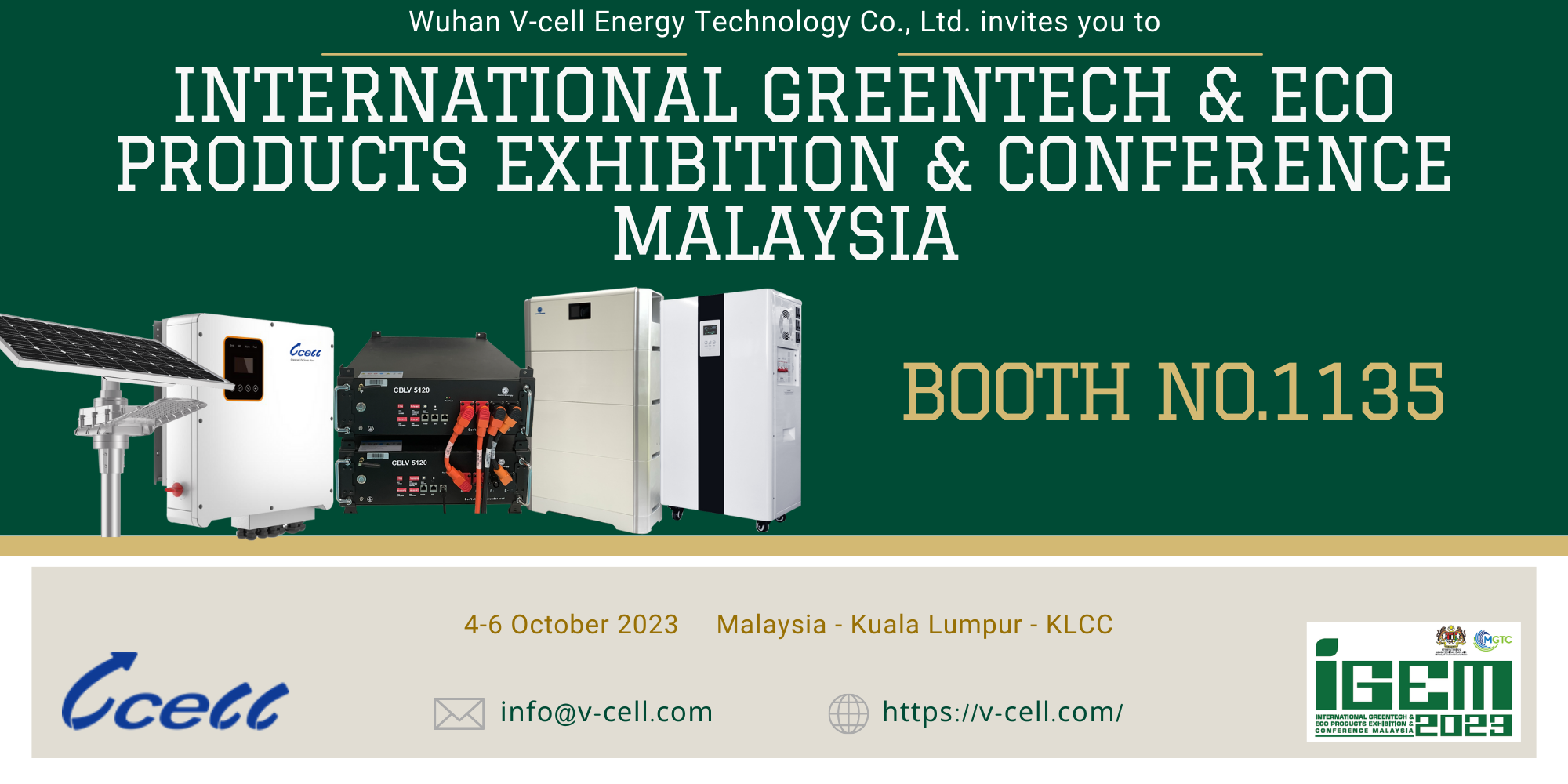 For more information about our participation or to schedule a meeting during the event, please contact us as below:

Ms. Susanna
Business Development Manager
Email: susanna@v-cell.com
Tel.: 0086-27-83636686